The puzzle at the end of this is a normal pentominous puzzle.
Hey! I haven't made any logic puzzles in a while, or posted anything on here. If you're curious, here are some things I've been doing:
I've started to get a lot more into game making. Logic puzzles are interesting, and while I like them, they can get very repetitive. There's a lot of variation in the type of puzzle, and especially with the twists and new modifications you can do on them, but for me, it doesn't even start to compare to the amount of variation you can get in making the ruleset and levels for a game.
I made Puzzlescript games called Spring, Summer, Autumn, Winter, and Season Finale. The first four can be played in any order, and you can don't have to play each through the whole thing before moving on to the next. You should at least have played a bit of the first four before starting the last one.
The other game I made was a Unity game called INF I made for Ludum Dare in under 48 hours. It placed 12th! This was basically the first non-Puzzlescript game I ever made and released, so I was insanely happy with this.
I've been programming a lot, which makes sense because it could be said to be at the center of my interests, making games, math, logic, and making things.
Also, if I'm making a list of things I've been doing, I guess school really has to go on that list (To be honest though, I think I'm more productive about non-school-related things at times school is happening. I don't know whether that's because of a more regular schedule, boredom motivating creativity, or whatever else.) My winter break recently ended and this semester started a few days ago.
Speaking of days, there's FIFTY UNTIL PI. (Using a bit of a "creative" reading order.) I've lastly been working on P.I.HUNT 3 a lot, which is bigger than P.I.HUNT 2, and most likely bigger than P.I.HUNT 4 as well. There are a lot of cool ideas, so I'm excited to be able to show it to you all! 🙂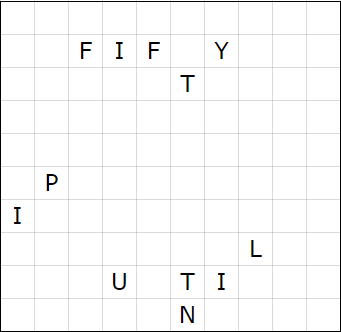 .)